After reading the nine elements, I really started thinking about how tough it can be sometimes. Even in my own experience, I have seen both students and teachers be really hesitant to even approach the use of digital media in the classroom. I thought that at this point in the semester, I would have completely revamped what I wanted to do with my major project. However, the more I think about what I want to do, and the deeper I get into thinking about those nine elements, the more I am starting to realize how important it is to make technology approachable. In this way, I started thinking about what I do and little conversations that I have with my colleagues. Not gonna lie – I am starting to get a little excited about this project.
Choice for the teachers
At my school, I see so many amazing professionals that are so eager to try out new things, but just simply do not know where to start. Through conversations with my colleagues, I have started to see how this support document can be a transformative piece.
Our school division really pushes the SAMR model when it comes to technology integration. While I think this is a very strong framework, I also think that it can be very intimidating for someone who is new to technology integration in their classroom. No matter what level of SAMR you are at, it still puts a focus on technology. The more I think about this project, the more I think about how focusing on the tech aspect, instead of the teaching aspect pulls people out of their comfort zone. With that said, I still highly recommend the SAMR model and actually use it to reflect on my own practice consistently. However, I want my document that I create to implement some choice in the reflective aspect.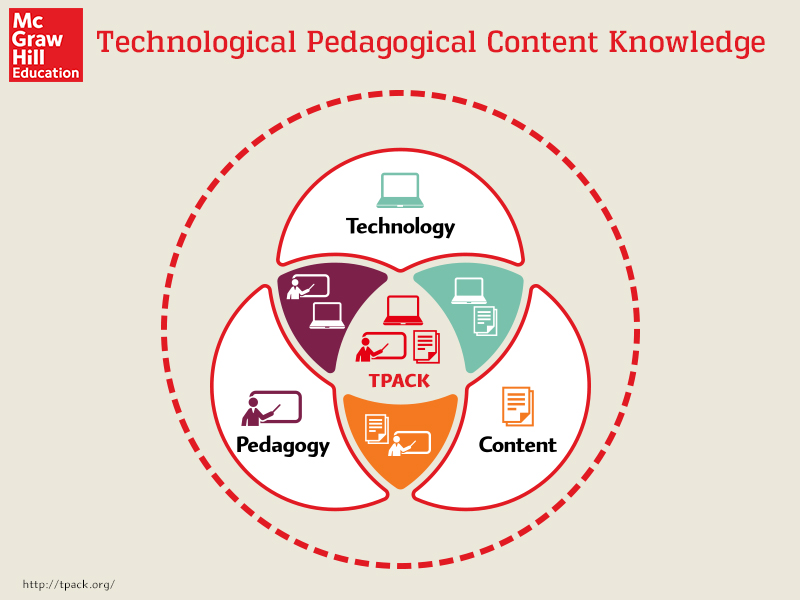 I really like the TPACK framework, mostly because it shows the importance of balancing your own already honed skills with the new technology that you are using. Even the RAT model, while very similar to SAMR, is a little more simplified. At the end of the day, even being aware of different models when reflecting on the things that you do in the classroom will enhance your awareness of the tasks you are asking your students to do in your classroom. An after all, that is what these frameworks are for. I don't use them to design my tasks; instead I use them to reflect on the tasks that I do.
One thing that I have already put in my support document that will stay right until the end is a note about Bloom's Taxonomy. In my opinion, one thing that is sometimes assumed is that deeper technology integration automatically equates to higher level thinking. Simply put: this is not the truth. Understanding how to create tasks that not only incorporate technology, but also meet students at their own personalized levels is one of the most important parts of this project for me.
Choice is important – we all differentiate for our students. I want my document to differentiate for teachers at different levels.
Choice for students
One thing that I have shared with colleagues, especially my ELA friend, is how much I have shifted the way I do novel studies. The biggest change is that I let my students choose the assignments that they want to do to show their knowledge and growth. And in this, I allow them to dictate how much technology integration they are going to use. This is something I am passionate about. When someone asks me how much I use my class set of laptops, I always tell them that it depends. Some students use them all the time, while others use them less. Whatever they choose, I give them the responsibility of dictating how they are going to be assessed. Here is an excerpt from my grade 9 independent novel study:
In this assessment, I have given students choice in the main project that they want to do, but I have also simplified the language of the indicators for CC9.5b so that they can choose how I will assess them on that outcome. To me this is the purpose of using those frameworks above. It allows them to use their own strengths, and allows them to use technology when they need to, but not if they don't want to.
I have also started giving a lot of choice in the articles/poems/stories that I do in my classes. Here is a caption from my grade 12 class which hits CR 30.1 dead on:
With multiple links, it allows students to choose which article they want to read. This is a simple way that we can use technology in a way that redefines what we used to do, and uses solid pedagogical skills, all while still remaining true to content (think TPACK here).
And the best part is that teachers who might be a little intimidated by the technology aspect do not really need to extend themselves too much. It also makes it possible to let students show them ways to implement digital media.
PS – I would love to hear some thoughts about this in the comments – especially ways that you might think I can improve this.
Moving forward
I have only just begun my major project, but I am certainly completely immersed in the idea that the main focus of my curriculum support document is going to be choice. As much as I love the SAMR model, I have heard from my colleagues that the idea of always transforming learning is intimidating. I think that it is important to include in this document the idea that teachers have choice in the ways that they want to implement technology – and sometimes that choice can happen without having too much knowledge about it.
For me, I saw a huge improvement in my digital media use when I stopped focusing so much on implementing it at the transformative level, and instead let students choose what they wanted to do. I want to take that idea of giving students the choice to use technology when they need it, and not so much just because we can. This is going to be a guiding principal of my major project.